By 2050 hydrogen is estimated to account for 24% of Europe's total energy needs and create 5.4 million jobs.
The European Commission, will now invest 430 billion €uros for this technology change.
Oazer's planned expansion Market 2022-2025
Our focus will be on expansion and construction of production and HRS facilities within the following growth regions:
Northern Scandinavia
Finland
Poland
The company plans to launch 35-40 new Oazer HRS stations during 2022-2025.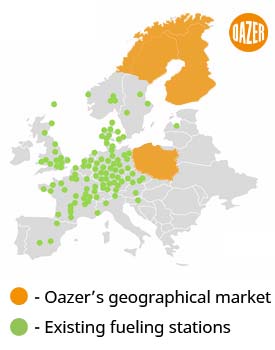 Partnerships are the key to success!
Our strategy is to form partnerships for hydrogen infrastructure projects, where Oazer is the supplier of hydrogen systems.
Oazer has chosen to work exclusively and strategically with customers and partners who want to invest in multiple hydrogen refueling stations, such as the WasaGroup in Finland. We will achieve our objectives thanks to strong collaborations with our partners.
Hydrogen within transport
Hydrogen used as a fuel for vehicles basically causes no other emissions than pure water vapor. No particles and no greenhouse gases come from the exhaust pipe. In the same way that the environmental impact of electric cars depends on how the electricity has been produced, it is determined for fuel cell cars by how the hydrogen has been produced and distributed. All hydrogen that Oazer offers is completely emission-free and the overall goal in Scandinavia is for all hydrogen to come from renewable sources.
A fuel cell-based driveline in a vehicle is at least twice as energy efficient as an internal combustion engine-based driveline. If you take into account the entire chain from the origin of the energy source to the drive wheels, the efficiency will be much, much better than that. This means that with the same amount of energy, the mileage with a fuel cell car will be at least twice as long as it will be with an internal combustion engine, and completely without emissions.
Charging electric vehicle batteries has even less energy losses than fuel cells, but they take time to charge and are above all bulky and heavy, which is why battery vehicles are best suited for short distances and light loads, such as much of city traffic. When it comes to heavy loads and long distances, energy storage in hydrogen is the optimal technology.
This technology is, for commercial use, now only in the start-up phase, which is why the technology is expensive due to small series. However, the major vehicle manufacturers such as Toyota, Honda and Hyundai estimate that around the year 2025 -26 it will be cheaper to produce a fuel cell-based driveline than the old traditional driveline, thanks to relative simplicity and economies of scale. Then the rollout will accelerate strongly and by the year 2030, these vehicles will be cheaper to produce than the old internal combustion engine-based ones. Then the choice becomes obvious.